CERIO DR-3000 included a policy forced firewall, intelligent 4 Gigabit Ethernet Port for Load balance, Wireless LAN controller, IP Gateway in a desktop-mount enclosure. This device centralized configuration and management model enables the controllers to be deployed, monitored, and controlled without local IT staff. The DR-3000 is a full-featured Wireless LAN Giga Ethernet security controller that aggregates up to 60/128 access points (APs), built-in 5000 local accounts /5000 on-demand accounts and delivers centralized control and security for wireless deployments.
Multiple Authentication Methods and Accounting
Built-in AAA Radius Base Controller Combined with CERIO's CenOS 5.0 Captive Portal Authentication Solution provides a perfect high-performance environment for wired/or wireless authentication, authorization, and accounting networks.
Multi-WAN Support Outbound Load-Balancing
With real-time load balancing and Optimum Route algorithm, DR-3000 intelligent router engine directs each session or connection to the best available link.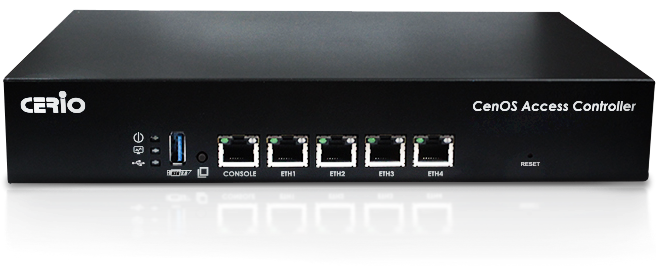 Bandwidth Management
By filtering out unexpected traffic, DR-3000 optimizes bandwidth utilization and ensures the best transmission quality for the transfer of mission-critical data.
Strong hardware VPN engine
Multifunction VPN Router is an easy-to-use, flexible, high-performance device well suited for small businesses.
Firewall Policy
Both NAT mode and DMZ mode are supported that they can maintain the existing network infrastructure without reconfiguring. DR-3000 provides policy-based firewall protection and several hacker protections to prevent network managers to enhance the security of local network easily.
Supports 3 Operation Modes