CenOS 5.0 is a versatile software solution that supports the following 5 operation modes:
Access Point Mode (includes Captive Portal Authentication and AP with WDS Mode) 

Control Access Point Mode (Centralized Access Point Management)

Router Access Point Mode

Client Bridge + Repeater Mode

WISP / CPE Repeater + Access Point Mode.
This versatile and feature packed software allows our wireless devices to handle any challenges and network requirements faced by our customers, providing an all-encompassing wireless solution for all network environments and architectures.
CenOS 5.0 is compatible with all Cerio wireless access points with the exemption of a few models. Devices that are currently operating on legacy software cores can be upgraded to CenOS 5.0 by downloading the CenOS 5.0 firmware from the Cerio website product page.
CenOS 5.0 Highlight Features
Centralized AP Management through CenOS's CAP Mode
CERIO's CenOS 5.0 supports an integrated AP management function called Control Access Point (CAP) Mode. This effectively converts an access point into an AP controller for centralized management of a wireless network. CenOS 5.0 devices operating in CAP mode can manage and monitor up to 128 devices (11ac models only).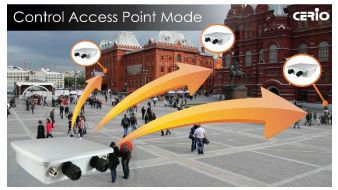 AP Group management –maintain a set of setting templates that simplify the task to assign the same setting to multiple APs

AP-Automatic configuration and provisioning by CAP mode.

Locally maintained configuration profiles for managed APs.

Auto discovery Cerio devices for easy AP management

Centralized firmware Upgrade-Select multiple APs and upgrade their firmware at the same time

Remote Firmware upgrade by TFTP and HTTP.

Monitor APs for traffic and system information.

Track the number of associated clients to the APs.

Supports Location Map Management.
Captive Portal Authentication through CenOS 5.0's AAP Mode
Service provider can benefit from the flexible web redirection service. This service provides a set of location, browser, and user-specific information to the backend system to enable value added personalized service provided by the WISP. Detailed location information is available via HTTPs/XML interfaces. Web pages can be either stored locally on the OS or remotely on a guest portal server.
Authentication: single sign-on (SSO) client with authentication integrated into the built-in 802.1x RADIUS authentication server account database and local authentication environment through local, RADIUS Server and OAuth2.0

Support internet bandwidth control

Supports Guest Login and Guest Client Control

Allow MAC binding IP address for local users authentication

Support Web-based for SSL browser-based authentication

Default support OAuth2.0 through Google and Facebook account authentication
11ac devices support management of up to 128 APs*
*11n devices support management of up to 16 APs*
Notice: Only 11ac devices support built-in RADIUS authentication