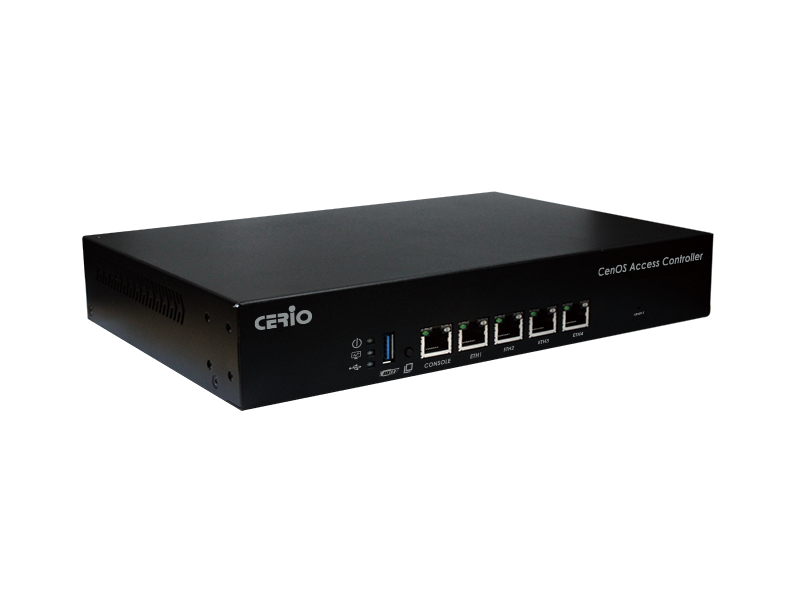 DR-3000
CenOS5.0 Access Controller with VPN Gateway
CERIO's DR-3000 CenOS5.0 System Access Controller with VPN Gateway is designed for applications in which a compact, cost-effective " all-in-one" networking solution is required. CERIO DR-3000 included Hot spot authentication and policy forced firewall, intelligent 4 Gigabit Ethernet Port for Load balance, Wireless LAN controller, IP Gateway in a desktop-mount enclosure. This device centralized configuration and management model enables the controllers to be deployed, monitored, and controlled without local IT staff.  The DR-3000 is a full-featured Wireless LAN Giga Ethernet security controller that aggregates up to 60/128 access points (APs), built-in 5000 local accounts /5000 on-demand accounts and delivers centralized control and security for wireless deployments.
Introduction
CERIO's DR-3000 can serve up to 500 simultaneous users, applies to public access networks such as network management guest access, hospitality deployments – which require reliability, efficiency, and security. It supports Hotspot Router / Firewall/ HA / VPN/ Multi-WAN / Captive portal /QoS enforcement and Built-in AAA Radius server, AAA RADIUS Server combines WiFi-Hotspot authentication contain single ticket / Pre-generated ticket / RADIUS account and remote LDAP(AD) Server authentication, simply match CERIO's CenOS 5.0 AP and enable RADIUS authentication.
Wireless and Wired Access Controller System
Multiple Authentication Methods and Accounting
CERIO's DR-3000 Wireless Gateway Built-in AAA Radius Base Controller Combined with CERIO's CenOS 5.0 Captive Portal Authentication Solution provides a perfect high-performance environment for wired/or wireless authentication, authorization, and accounting networks.
Hotspot technology allows Internet providers to offer Internet access to customers, while applying certain Internet use rules and limitation. It is convenient for Internet cafes, hotels, airports, schools and universities. The Internet provider gets complete tracking records of per customer time spent on the network, data amount sent/ received, real-time accounting and more.
To begin browsing, a client must go through a registration process with the provider, then enter a Passcode of access ticket in a browser Login window that appears on the attempt to open a webpage. Hotspot technology proposes providers to establish and administrate a user database, which can be useful for enterprise such as airports, hotels or universities that offer wireless or Ethernet Internet connectivity to employees, students, guests or other groups of users.
Strong hardware VPN engine
CERIO's DR-3000 Multifunction VPN Router is an easy-to-use, flexible, high-performance device well suited for small businesses. Now with web filtering, the new DR-3000 delivers highly secure, broadband, wired connectivity to small offices and remote employees. It can also be used either as a standalone router for flexible deployments, offering investment protection as your business needs evolve.
Centralized Access Points Management
Through DR-3000, all CERIO's Managed Access Points are managed through a unified Web interface. Make sure all Managed Access Points are under good conditions. It is a simple task to keep the firmware of Managed Access Points up to date. The device management is especially important for a wide area deployment.
Zero Configuration for Users
DR-3000 makes Internet access very easy and user-friendly. Users will be redirected to the provider's welcome page automatically regardless of their PC configuration. The IP Plug and Play feature will accept and translate fixed company IP settings and web proxy configurations, so that users do not have to reset their corporate IP or web settings. Outgoing user e-mails can be redirected to the operator's mail server in order to facilitate to e-mail forwarding for foreign subscribers. The recipient sees the messages as it was sent from the users' home provider.
Quota
As broadband usage proliferates coupled with the alarming rise of file sharing trend, in certain cases, it is important to assign quota for user bandwidth consumption, particularly in the education institutions, hot spots, or in a community with shared Internet access provider subsystem.
DR-3000 supports two different quota mechanisms: prepaid and periodical, in order to meet different real-life business needs. The quota system can also be integrated with external accounting and billing systems.
Multi-WAN Support Outbound Load-Balancing
With real-time load balancing and Optimum Route algorithm, DR-3000 intelligent router engine directs each session or connection to the best available link. It also supports policy-based routing, persistent routing, and traffic scheduling to effectively adapt your business policy into your network policy.
Bandwidth Management
By filtering out unexpected traffic, DR-3000 optimizes bandwidth utilization and ensures the best transmission quality for the transfer of mission-critical data.
Protocols Traffic Management
DR-3000 is capable of analyzing and managing many layer-7 protocols such as VoIP protocols (H.323 and SIP), Video Conferencing, ERP, and various IM protocols. With such layer-7 filtering (or scan) capability, DR-3000 empowers business communications and improves efficiency by providing network quality of service management.
Firewall Policy
Both the NAT mode and DMZ mode are supported that they can maintain the existing network infrastructure without reconfiguring. The DR-3000 provides policy-based firewall protection and Anti-blocking hacker DoS attack to network device to enhance the security of local network easily.
Policy-Based Access Control List
Firewall access policies are user definable and can be based on source or destination, type of service, and IP address. It is also implemented in conjunction with traffic scheduling policy. DR-3000 supports specific Layer-7 protocols such as P2P, IM, and H.323 for better network management. The DR-3000 provides Content Blocking feature to block specific URL, Scrip, IM, P2P and download file.
Support 3 Modes Application
1.Control Mode
2.Router Mode
3.Captive Portal
Hardware Overview
Software Specifications

Access Controller

Max : 60/128 Access Points per Controller

Max : 500 wireless client per Controller

Provide Local Account : 5000

Centralized AP Management / Control

AP Group management –maintain a set of setting templates that simplify the task to assign the same setting to multiple APs

AP-Automatic configuration and provisioning by DR-3000

Locally maintained configuration profiles for managed APs

Auto discovery for managed APs

Central firmware Upgrade-Select multiple APs and upgrade their firmware at the same




time , including bulk upgrade

Remote Firmware upgrade

Provides MAC address Control list of client stations for each managed APs

Provide centralized remote management via HTTP/SNMP interface

Support MIB's : 802.11, 802.1X, MIBII, RADIUS authentication, RADIUS Accounting

SYSLOG support including remote servers

Log-system log : operator action log

AP Monitoring

Monitor AP Status

The number of associated clients to the AP

Associated Station List

Monitoring IP List

Load  balancing based on number of users

AP User Statistic –Maintain all wireless clients connection history and depict statics in   diagrams

System alarms and status reports on managed APs

TP Topology Monitor-list monitored device ; periodic update on device status

Radio Management

Automatic Channel Assignment and power setting for controlled APs

Simultaneous air monitoring and end user service

Self-healing coverage based on dynamic RF condition

Dense deployment options for capacity optimizations

Multiple BSSID per Radio : 8

Hot Standby at AP mode (support fail-over a standby AP)

Load Balance to another available AP (Real time users limitation )

Coverage interference detection

Bandwidth Managermant

IEEE802.11p Class of Service/Quality of Service (CoS /QoS)

IEEE802.11e Wi-Fi Multimedia (WMM)

Differv Codpoint (DSCP)

Traffic Analysis and Statistics

Diff/TOS

IEEE 802.1Q Tag VLAN priority control

IGMP Snooping for efficient multicast delivery

Upload and Download Traffic Management

Wireless Security / Encryption

WPA / WPA2 personal and enterprise

WEP40/64 and 104/128-bit

TKIP: RC4-40 and AES(CCMP): 128bit (FIP-197)

SSL and TLS: RC4 128-bit and RSA1024 and 2048 bit

EAP-TLS , EAP-TTL/MSCHAPv2

IEEE802.1X network login user authentication (EAP-MD5/TLS/TTLs ) and

RADIUS server authentication (RFC2618)

Authentication

Authentication: single sign-on (SSO) client with authentication integrated into the local




authentication environment through local/domain, LDAP(AD), PoP3,  RADIUS, 802.1x and Guest

Authentication Type

IEEE802.1X(EAP,LEAP,EAP-TLS,EAP-TTLS,EAP-GTC,EAP-MD5)

RFC2865 RADIUS Authentication

RFC3579 RADIUS Support for EAP

RFC3748 Extensible Authentication Protocol

MAC Adress authentication

Web-based captive portal authentication

Authorization

Authorization : access control to network resource such as protected network with




intranet, internet, bandwidth, VPN, and full stateful packet

Hotspot functions

Provides billing plans for pre-setting / on-demand accounts

Enables session expiration control for On-demand accounts by time(Hours) and data volume (MB)

Detailed per-user traffic history based on time and data volume for both local and on-demand accounts

Support local on-demand and external RADIUS server

Contain 10 configurable billing plans for on-demand accounts

Provide session expiration control for on-demand accounts

Support automatic email network traffic history

Load Balancing

Outbound Fault Tolerance and loadbalance for WAN port

Multiple Domain Support

By Traffic

Firewall

Built-in DoS attack protection

Inspection Full statefull packet filter

Access Control List

Layer 7 Protocol Blocking

Multiple Domain Support

Support MAC Filter

Support IP Filter

Active Firewall Session 60000

Network

Support static IP , Dynamic IP(DHCP Client ) , PPPoE and PPTP on WAN connection

DHCP Server Per Interface; Multiple DHCP Networks

802.3 Bridging

Support NAT

IP/Port destination redirection

DMZ server mapping

Virtual server mapping

H.323 pass-through

Support Static Routing

Support Walled garden (free surfing zone)

Binding VLAN with Ethernet and Wireless interface

Support MAC-address and IP –address pass through

Support IP Plug and Play ( IP PnP )

System Management

Support HA backup function

Provide customizable login and logout portal page

CLI access (Remote Management ) via Telnet and SSH

Remote firmware upgrade (via Web)

Utilities to backup and restore the system configuration directly to USB Flash memory

Full Statistics and Status Reporting

Real time traffic monitor

Ping Watchdog

SNMP v1,v2c ,v3

SNMP Traps to a list of IP Address

Support MIB-II

NTP Time Synchronization

Administrative Access : HTTP / HTTPS

Load Balancing

Even Syslog

Status monitoring of on-line users

IP-based monitoring of network devices

Interface connection status

Support Syslog for diagnosing and troubleshooting

User traffic history logging

User's session log can be sent to ftp or Syslog server

Remote Syslog reporting to external server
DR-3000 Hardware Specifications

Standards & Hardware Specifications

CPU Clock Speed

Dual Core 880MHz CPU

Console Port

1 RJ45

USB 3.0 Port

1 USB3.0 

Reset Switch Built-in

Push-button momentary contact switch   

Ethernet Configuration

10/100/1000 BASE-TX auto-negotiation Gigabit Ethernet port x 4 (RJ-45 connector)

Built-in LED Indicators

1* Power 

1* Status

1* USB Storage

Environmental & Mechanical Characteristics

Operating Temperature

0 °C ~ 50 °C

Storage Temperature

-20 °C ~ 75°C

Operating Humidity

10% – 80% Non-Condensing

Storage Humidity

5% – 90% Non-Condensing

Power Supply

110 – 220V AC Power; 12 VDC input. 

Dimensions ( W x H x D )

265mm x 178mm x 44mm

Unit Weight

1.03kg

Form Factor

Desktop, Metal Case

Production Location

TW Only

Certifications

CE , FCC , RoHs compatible

Package Contents

DR-3000 Main Unit 

x1

Power Adapter 

x1

CD Manual  

x1

Warranty Card 

x1