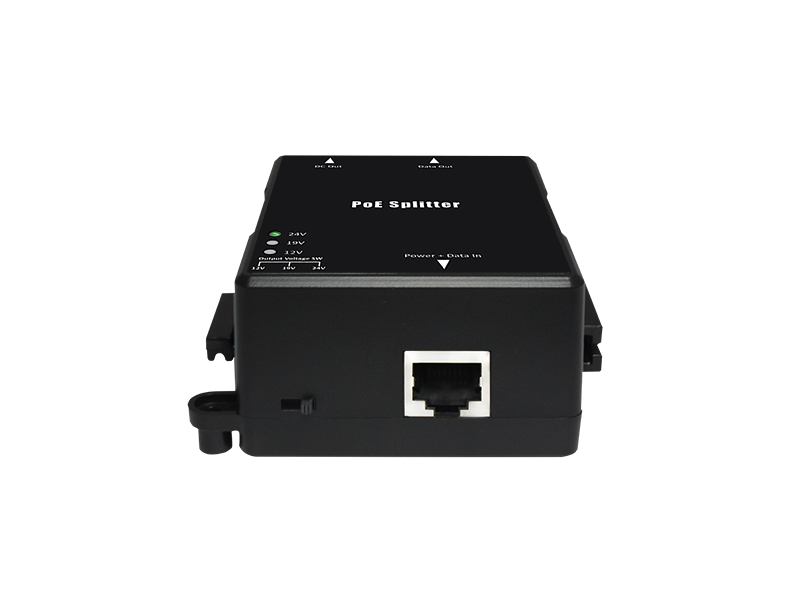 10/100/1000M Gigabit PoE+ Splitter
The CERIO POE-PD04S delivers Power over Ethernet (Fast Ethernet /Giga Ethernet) to remote devices. This device splits the PoE signal into separate data and power sources and relays them into non-PoE devices. Supports DC output voltage 12V, 19V and 24V via DIP switch three range adjustable. The PoE+ Splitter can be used to complement any 802.3at PoE+/802.3af PoE, Proprietary injector unit, or PoE switch to provide small to mediumsized businesses with a complete end-to-end PoE solution.
Higlight Features
Complying with IEEE 802.3 10Base-T, IEEE 802.3u 100Base-TX,IEEE802.3ab 1000Base-T, IEEE-802.3at PoE+ / 802.3af PoE.

Supports 10/100/1000Mbps Gigabit Ethernet.

The IEEE802.3at/af PoE splitter can use to connect non-PoE IEEE802.3at /802.3af compliant devices to an PoE+ injector or PoE+ switch.

Supports Output Voltage hot switching for 12VDC/19VDC/24VDC three range adjustable.

Max Power Transmission : 27Watts for DC output.

Supports Ethernet PoE to Separate to only DC/Power and only Ethernet/Data.

Bundle accessories for inside diameter 2.1 mm(PHY) to 2.1 (PHY) mm DC cable.

LED indicators for Power function enable and DC output voltage display of 12V/19V/24V.

Supports desktop or wall mounting installation and multiple units combination for easy to bundles organize the Ethernet cables.

Long Distance Application

The PoE Splitter supports Gigabit Ethernet PoE Powered Device. It's able to split the PoE signal into separate data and power sources up to total 100Meters (328 feet). The Gigabit PoE suggest use a Cat 6 Ethernet cable to meet 100Meters PoE distance.

Functionality

CERIO POE-PD04S uses the latest hardware hotswitching protection design, which can effectively prevent the fault caused by instantaneous switching of different voltage. The device will not cause any damage while changing the voltage output during operation. It provides DC 12V or 19V or 24V needs for any network or non-network equipment through DC to DC Cable which is included with package. Using the Cerio PoE+ Splitter, you can take advantage of Power Over Ethernet and place Fast/Giga Ethernet-enabled products, such as Wireless Access Points, Network Cameras, and VoIP Phone where power outlets are not readily available. 

ESD Protection

CERIO POE-PD04S supports ESD, Electro Static Discharge protection includes Over Voltage protection and Short Circuit Protection ensuring device safety.

Additional Benefits

Some additional benefits of Cerio POE splitter include cost saving, small pocket size and convenience in network planning, and higher reliability.

Easy installation

The PoE Splitter is simple Plug-and-Play, requires no configuration.
Product Application
Hardware Overview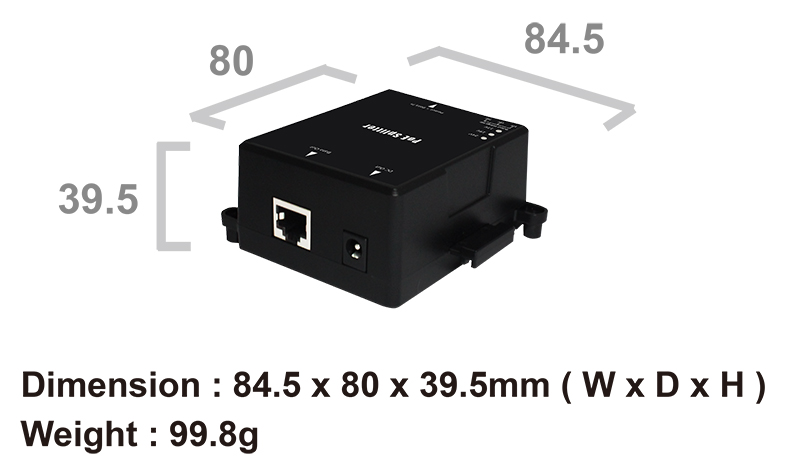 Standards & Hardware Specifications

Standard

IEEE802.3 10BASE-T




IEEE802.3u 100BASE-TX




IEEE 802.3ab 1000BASE-T




IEEE802.3at Power over Ethernet (PoE+)




IEEE802.3af Power over Ethernet (POE)

Network Media

10BASE –T: UTP Cat. 3 or up




100BASE-TX : UTP Cat. 5 or up




1000BASE-T: UTP Cat. 5 or up

Data Transfer Rate

10/100/1000Mbps (Half-duplex)

20/200/2000Mbps (Full-duplex)

Data PIN

PIN 1/2, 3/6 & 4/5, 7/8

Power PIN

End-span (Type-A): PIN 1/2,3/6 ;

Mid-span (Type-B): PIN 4/5,7/8

Data in

Connects PC/HUB/Switch

Ethernet Connector

RJ-45 x1 for Power + Data input




RJ-45 x1 for Data output

ESD Protection

Over Voltage protection and Short Circuit Protection

Environmental & Mechanical Characteristics

Max Power Output

27Watts

Power Connector(Interface)

DC-Jack : Output to any none PoE 12V or 19V or 24V DC in device

Power Requirement

802.3af/at PoE Power Source

POE Input Voltage

44V~57V

DC Output Control Range

12V/19V/24V three range adjustable by DIP switch

DC Output Current

Max 12V/2.25A , 19V/1.42A, 24V/1.125A

LED Indicators

DC Output LED x3 : 12V or 19V or 24V

Operating Temperature

0° to 55° C

Storage Temperature

-40° to 70° C

Operating Humidity

10% to 90% non-condensing

Storage Humidity

5% to 90% non-condensing

Dimension ( W x H x D )

84.5 x 80 x 39.5mm

Weight ( g )

99.8g

Case of material

ABS

Production Location

TW only

Certifications

FCC ,CE, RoHs compatible

Package Content
POE-PD04S Main Unit

x1

Inside diameter 2.1mm(PHY) to 2.1mm DC Cable

x1

Quick Installation Guide

x1

Warranty Card

x1