24 Port 10/100Mbps Web Managed PoE+ Switch with 2 Combo Gigabit ( 400Watt Power )
 Powerful high-performance 24 port PoE Fast Ethernet switch, supporting 2 combo Gigabit UTP/SFP uplink ports, and is compliant with POE+ IEEE 802.3at and 802.3af standards. This layer 2 Web Management switch includes a 400watt internal power supply and supports a 350 Watt PoE Power Budget and Remote on/off control of PoE power ports. CS-2224-24P layer 2 functions include Spanning Tree Protocol, IEEE802.1Q Tag/Port Based VLAN functions, IEEE802.1p-based/Port-based QoS bandwidth control, and Loop detection, and much more. This device can solve the limitation of the power outlet locations and offer the system relocation convenience
CS-2224-24P is a powerful high-performance 24 port PoE Fast Ethernet switch, supporting 2 combo Gigabit UTP/SFP uplink ports, and is compliant with POE+ IEEE 802.3at and 802.3af standards. This layer 2 Web Management switch includes a 400watt internal power supply and supports a 350 Watt PoE Power Budget and Remote on/off control of PoE power ports. CS-2224-24P layer 2 functions include Spanning Tree Protocol, IEEE802.1Q Tag/Port Based VLAN functions, IEEE802.1p-based/Port-based QoS bandwidth control, and Loop detection, and much more. This device can solve the limitation of the power outlet locations and offer the system relocation convenience
CERIO's CS-2224-24P PoE+ Switch is designed for office deployment and can be upgraded to 1U" chassis for server room installation. CS-2224-24P is ideal for micro-segmenting large network into smaller networks, connecting subnets for improved performance, and enabling the bandwidth demanded for multimedia and imaging applications. Network administrators can easily connect Wireless AP, VoIP phones, and IP Cameras to this switch for convenient power and data transmission. Over current protection and circuit shorting protection are also supported to ensure product safety. This high power device provides easy installation, avoids limitations of power outlet locations, and offers a simple solution for system relocation.
Highlight Features
Complying with IEEE 802.3 10Base-T, IEEE 802.3u 100Base-TX, IEEE 802.3ab 1000Base-T, IEEE 802.3z 1000Base-SX/LX IEEE-802.3af PoE,IEEE802.3at POE+.

24port 10/100Mbps TX Auto-Negotiation Ethernet Switch , Have 24 Port PSE/ PoE function, compliant with IEEE-802.3af class3 /class2/class1 and IEEE802.3at.

Supports 2 combo Gigabit UTP/SFP uplink ports and IEEE 802.3ab 1000Base-T, IEEE 802.3z 1000Base-SX/LX.

Supports PoE Green Power Energy Saving function to automatically detect connected devices and smartly direct necessary output wattage to only those ports to achieve green power saving.

Supports power of up to 30Watt/15.4Watt/7.5Watt/4Watt for each PSE/PoE port.

Internal 400 Watt power supply supports a maximum PoE power budget of 350 Watt.

Supports remote power control of PoE powered devices (PD), allowing by internet web on/off/restart control and supports monitoring of individual port PoE consumption (wattage).

Supports PoE Control with scheduling capabilities and port-based control.

Full/Half-Duplex capability on each TX port , Auto-learning networking configurations.

Supports Store & Forward architecture and performs forwarding and filtering.

Supports flow control: back pressure for Half-duplex and IEEE 802.3x for Full-duplex mode.

Supports store & forward.

Non-blocking & Non-head-of-line blocking full-wire speed forwarding.

Supports TP interface Auto MDIX function for auto TX/RX swap.

Provides 9K Jumbo frames to improve network utilization of a large file transfers.

Supports up to 4K MAC addresses.

Up to 2.75Mb Packet buffer.

VLAN and IEEE802.1Q tag-base VLAN based on ports & VIDs; add/remove/modify tag.

IEEE802.3ad Link Aggregation Port trunking (up to 3 groups and Max. 4 ports in each group).

Provides IGMP v1/v2 snooping function.

Supports Class Quality of service ( COS ), port- based, 802.1q priority tag based, IP TOS based, TCP/UDP port bases.

Supports DHCP Relay Agent.

Supports bandwidth control.

Supports port mirroring and Spanning Tree(STP) and Rapid spanning Tree Protocol(RSTP)functions.

Per port MAC address base filtering , and TCP/UDP network protocol filtering.

Supports file backup and recovery.

Supports Simple Network Management Protocol (SNMPv1/SNMP v2c) Web-based management interface.
Hardware Overview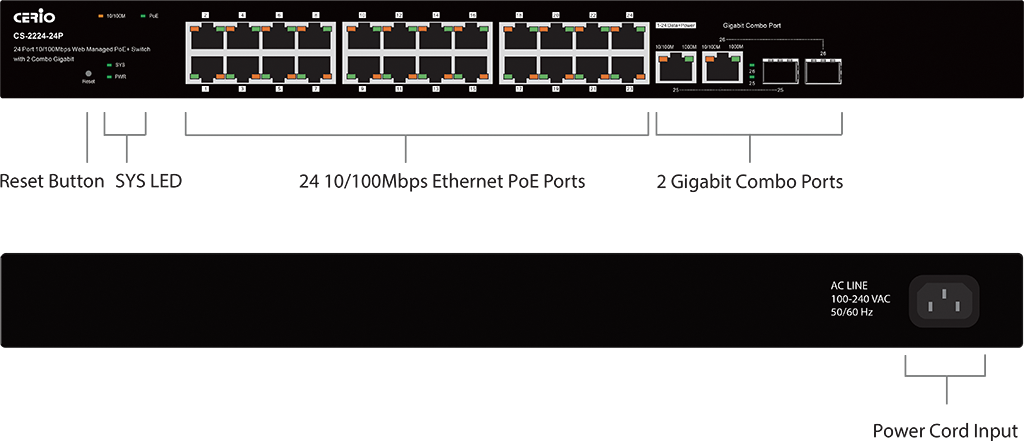 Standards & Hardware Specifications

Standards Conformance

IEEE 802.3 10Base-T

IEEE 802.3u 100Base-TX, 

IEEE 802.3ab 1000Base-T, 

IEEE 802.3z 1000Base-SX/LX

IEEE 802.3x Flow Control

IEEE 802.3az EEE

IEEE 802.1p QoS

IEEE 802.1Q VLAN Tag

IEEE 802.3ad Link Aggregation

IEEE 802.3af Power over Ethernet ( 15.4 Watt PoE )

IEEE 802.3at Power over Ethernet Plus ( 30 Watt PoE+ )

Port Configuration

24 ports RJ-45 connectors for 10/100 BASE-TX and PSE/ PoE function

2 port Gigabit Combo SFP/ RJ-45

Hardware Reset

Reset Button for returning to original factory settings

Media Access Protocol

CSMA / CD

Network Media

10BASE –T: UTP Cat. 3 or up, 

100BASE-TX: UTP Cat. 5 or up, 

1000BASE-T: UTP Cat. 5 or up 

Transmission Method

Store and Forward

MAC Address Table

4K

Built-in Buffer

2.75Mb

Data Transfer Rate

10/100Mbps (Half-duplex), 20/200Mbps (Full-duplex)

1000Mbps ( Half-duplex), 2000Mbps (Full-Duplex)

Auto MDI/MDIX

Yes

LED Indicators

Per Port:(TX): Link/Act Status*24

Per Port: (PoE) Status*24 

Gigabit Combo Port : RJ45 Connection Status *4 

Gigabit Combo Port : SFP Connection Status *2

Per Unit: Power/SYS *1

Internal Bus Speed

8.8Gbps

Switch Specifications

Link Aggregation 

LACP up to 3 groups and 0-3,4-7 ports ,Gigabit 1-2 ports in each group

Port Mirror

Supported

QoS

Support IEEE 802.1p QoS , Port-based QoS

Bandwidth Control

Supported

Spanning Tree(STP)

Supports Spanning Tree Protocol, Rapid Spanning Tree Protocol, and Multiple Spanning Tree Protocol

IGMP Snooping

v1 and v2

MAC Filter

Supported

DHCP Relay Agent 

Supported

VLAN

IEEE802.1Q Tagging VLAN , Port-Based ,Tag based VLAN 

SNMP

V1 / v2c supported 

POE Scheduling Control

Supported

Environmental & Mechanical Characteristics

PoE Power Budget 

54V/6.7A for 350Watt (shared) for all PoE ports

Power Consumption 

12V/3A for 25.7Watt (max. with no PoE Device connected)

Power Type

Power cord: Internal Power supply 

Power Requirement

AC 100~240VAC, 50-60Hz Auto-sensing

Operating Temperature

0° to 40° C 

Storage Temperature

-40° to 70° C

Operating Humidity

10% to 90% non-condensing

Storage Humidity

10% to 90% non-condensing

Dimension ( W x D x H )

441 x 310 x 44 mm

Unit Weight 

4kg

Production Location 

TW or CN

Certification 

FCC, CE, RoHS-compliant

Package Content

CS-2224-24P Main Unit

x1

CD Manual

x1

Power Cord

x1

19" Mount Brackets

x1

Warranty Card

x1