ANT-10AO
5GHz 2×2 Outdoor Omni 10dBi with RF Cable Pole / Wall Mount Antenna
ANT-10AO 5GHz 2×2 Outdoor Omni 360˚ 10dBi with RF Cables Pole / Wall Mount Antenna provides 15˚ for H Plane long distance coverage for point to multi point application. The ANT-10AO supports 5.1 to 5.9 GHz and provides superb performance in IEEE 802.11a/an/ac/ax Wi-Fi environment. ANT-10AO supports pole and wall mounting installation. All materials are considered good in water tightness and prevention of rust characteristics. All CERIO products pass a strict test, and satisfy professional user product needs.
The ANT-10AO 5GHz 2×2 Outdoor Omni Dual Polarization Antenna provides polarized dual-signal characteristics, allowing multiple antenna applications for 11ac/ax 2T2R MIMO. The user only uses one set of ANT-10AO Dual Polarization antenna with 2 sets of SMA connectors for connection with NFC-NSP-1M low-attenuation RF cables to complete 11ac/ax 2T2R MIMO applications that require multiple antennas. In this way, the trouble of setting up multiple antennas and multiple brackets can be solved. It greatly simplifies construction procedures and installation costs. The perfect solution for faster, longer distances with 11ac/ax 2T2R MIMO multi-radio reception and wireless transmission.
Highlight Features
Supports 5Ghz IEEE 802.11a/an/ac/ax.

High Gain: 10dBi.

360˚ Width-H Plane(Vertical), 15˚ Width-E Plane(Horizontal) and 15˚ Down tilt coverage.

High performance.

Light-weight and easy installation.

IP67 Waterproof design.

Supports two SMA (Female) connectors.

Supports pole & wall mounting.

Bundle with RF cable with a waterproof cap and adjustable pole & wall mounting kit, it can be installed quickly without purchasing other accessories.
Pole Mounting Installation Kit
Support Vertical or Horizontal Pole Installation
Pole U-bolt: Pole Range Ø38-Ø102mm(1.5"〜4.0")
Pole O-Clamps: Pole Range Ø51-Ø102mm(2.0"〜4.0")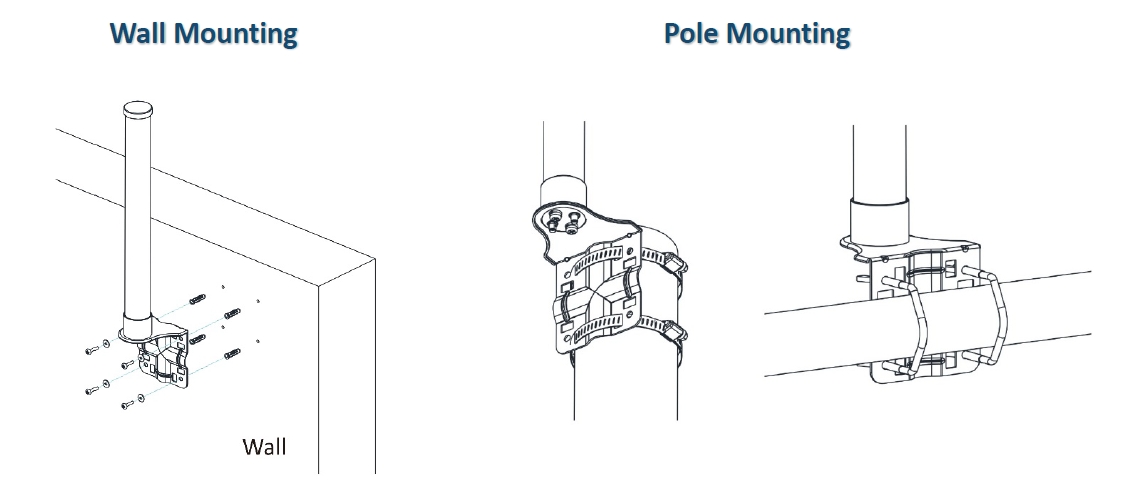 RF Cable Overview (NFC-NSP-1M)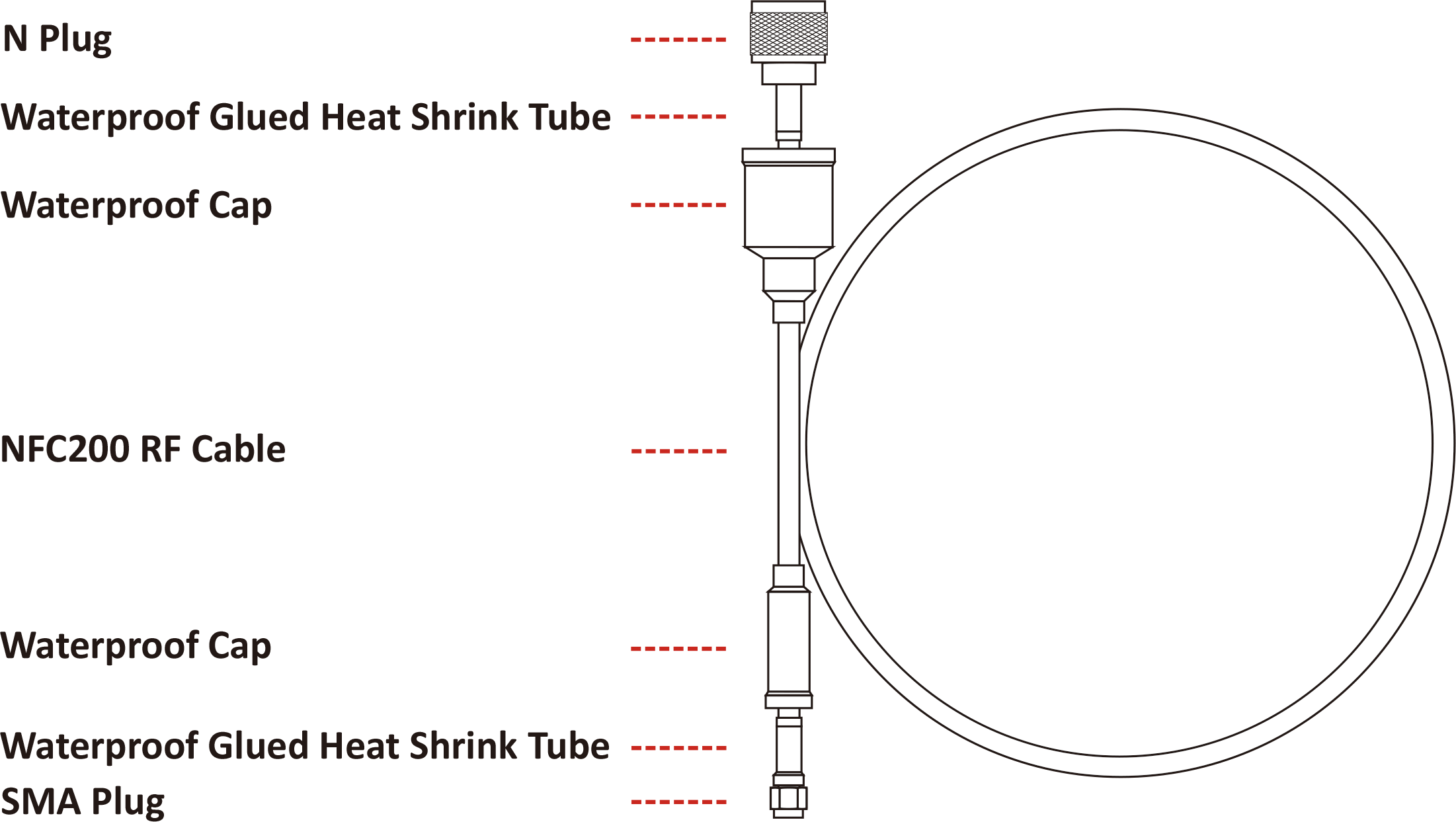 Installation Application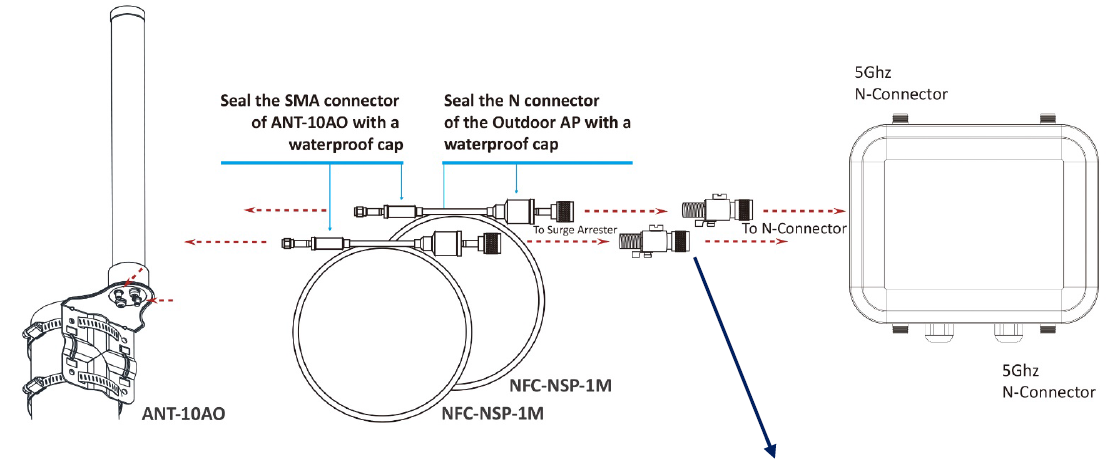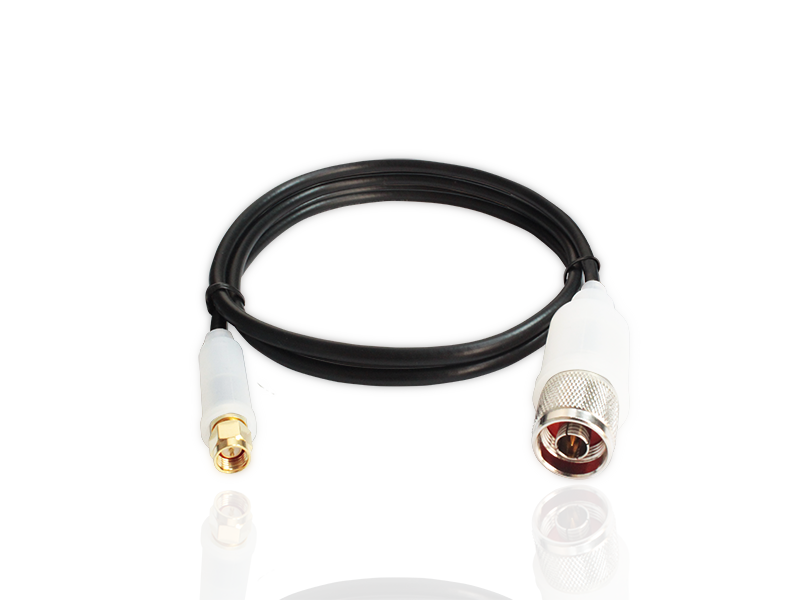 RF Cable Specification ( NFC-NSP-1M )
Specifications

Antenna Type

Outdoor Omni Dual Polarization Antenna

Frequency Range 

5.1 ~ 5.9GHz (11a/an/ac/ax)

Network Specification 

Wireless 5Ghz Network IEEE 802.11a/an/ac/ax MIMO

Antenna Gain

10 dBi

V.S.W.R

≦2.0

Beam Width-H Plane (Vertical)

 360˚

Beam Width-E Plane (Horizontal)

 15˚

Down tilt

 15˚

Polarization

Horizontal (Linear)

Front-Back Ratio

>20 dB

Input Impedance

50 Ohms

Connector

SMA Female*2

Form Factor 

Supports Wall / Pole Mounting Installation
Pole U-bolt: Pole Range Ø38-Ø102mm(1.5"〜4.0")
Pole O-Clamps: Pole Range Ø51-Ø102mm(2.0"〜4.0")

Rated Wind Velocity

210Km / Hour

Operation Temperature 

 -50˚C – + 85˚C

Storage Temperature 

 -50˚C – + 85˚C

Humidity

5~90% maximum (non-condensing)

IP Rating

IP67(waterproof level)

Dimension 

Antenna: 406*42 mm (L x W)

Weight

Antenna : 0.31Kg
Antenna with mounting kit : 1.99kg

Production Location

TW Only

Package Contents 

ANT-10AO Main Unit

x1

Pole & Wall Mounting Kit

x1

RF 1Metter Cables (NFC-NSP-1M)  

x2

Quick Installation Guide 

x1

Warranty Card

x1