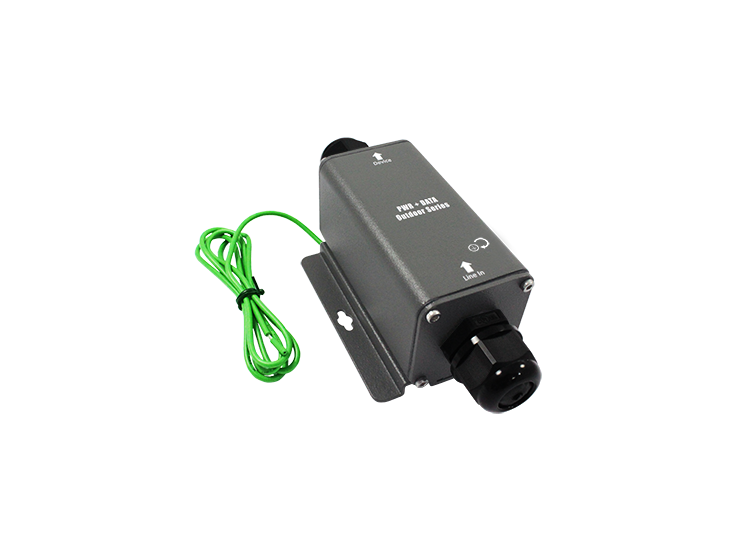 Outdoor Gigabit Ethernet PoE Pass-though Surge Protector
The CERIO POE-OSP is an outdoor PoE Pass-through Ethernet Surge Protector provides superior lightening and surge protection over Gigabit networks speeds to provide Gigabit Power-over-Ethernet (PoE) over a single Ethernet cable. It supports 10 KA Impulse Discharge Current guarantees reliable surge protection and provides excellent lightning protection for network PoE and non-PoE devices when transmitting on Gigabit network. POE-OSP provides aluminum enclosure with IP68 rating waterproof durable design are made to withstand harsh environment deployment. It's ideal for installation in outdoor environments.
Highlight Features
Complying with IEEE 802.3 10Base-T, IEEE 802.3u 100Base-TX, IEEE 802.3ab 1000Base-T standards.

Supports 10/100/1000Mbps Gigabit Ethernet speed , Power over Ethernet (PoE) pass through and compatible with IEEE 802.3BT PoE Class 8 or less power level .

Supports IP68 rating weather-proof durable design are made to withstand harsh environment deployment.

Load current self-protection mechanism and grounding wire function pulse discharge current protection design.

Built in grounding pad which can connect to grounding cable to lower clamping voltage for better and more reliable protection and supports 10 kA Impulse Discharge Current.

Supports 2 protection mode : Line-to-Ground and Line-to-Line.

Protects all Eight(8) pins of the Ethernet cable.

Plug and Play, no software required.

Supports desktop , wall mounting and multiple units combination easy to use.
Functionality 

The CERIO Gigabit Outdoor Surge Protector with the latest advanced hardware protection design protecting outdoor Ethernet devices from damaging electrostatic discharge and surges. It can function as a transmitter for a PoE switch to deliver power and data through an Ethernet cable and can handle data rates of up to 1000 Mbps Gigabit speed. This device protects all 8 pins of the Ethernet cable and is compatible with all types of RJ45 cables. Installing two POE-OSP devices, one is nearly terminal equipment (such as PoE/non-PoE outdoor cameras, Outdoor AP), and the other at source equipment (such as PoE/non-PoE Switch, Router). Damaging ESD attacks and surges will be absorbed by the POE-OSP devices and safely discharged into the ground. It is a cost-effective solution for protecting expensive outdoor Ethernet devices.

Surge Protection
CERIO POE-OSP provides higher surge capability and lower clamping voltage. It is compliant with IEC/EN 61643-21 and IEC/EN 61000-4-5 standard. The benefit of CERIO POE-ISP includes maximize surge capability and enhancing reliability device safety. 
Additional Benefits

Some additional benefits of CERIO PoE Surge Protector include cost saving, small pocket size and convenience in network planning, and higher reliability.

Easy installation

The CERIO PoE Surge Protector is simple Plug-and-Play, requires no configuration.
Product Application
Installation Support
Hardware Overview
Standards & Hardware Specifications

Standard

IEEE802.3 10BASE-T




IEEE802.3u 100BASE-TX




IEEE 802.3ab 1000BASE-T




IEEE 802.3af/bt POE Pass-through

Network Media

10BASE –T: UTP Cat. 3 or up




100BASE-TX : UTP Cat. 5 or up




1000BASE-T: UTP Cat. 5 or up

Data Transfer Rate

10/100/1000Mbps (Half-duplex)

20/200/2000Mbps (Full-duplex)

Clamping Line-to-Ground

20 kV (10/700 us)
600V at 10 kA (8/20 us)

Clamping Line-to-Line

6 kV (10/700 us)
20V at 1 kA (8/20 us)

Data in

Connects PC/HUB/Switch

Ethernet Connector

RJ-45 x1 for Line in




RJ-45 x1 for Line out

Surge Protection Design

10 kA (After grounding ability)

Surge Response Time

1ns

Environmental & Mechanical Characteristics

PoE Operation DC Voltage

60 VDC (Max)

PoE Operation DC Current

Two pair : 0.65A (Max)
Four pair : 1.3A (Max)

PoE Power Load

74Watt (Four Pair Max)

POE Input Voltage

44V~60V

Operating Temperature

-40° to 85° C

Storage Temperature

-40° to 85° C

Operating Humidity

5% to 90% non-condensing

Storage Humidity

5% to 90% non-condensing

Dimension ( W x H x D )

76 x 165 x 60mm (Including wall mounting kit)

Weight ( g )

325g

Case of material

IP68 Rating Weather-proof Alumm casing

Production Location

TW Only

Supports

IEC/EN 61643-21 (Safety) compatible
IEC/EN 61000-4-5 (EMC) compatible

Certifications

IEC 60529 IP68 Rating
CE, FCC and RoHS Compliant
Package Contents
POE-OSP Main Unit

x1

Quick Installation Guide

x1

18AWG grounding cable

x1

Wall mounting screw set

x1

Warranty Card

x1