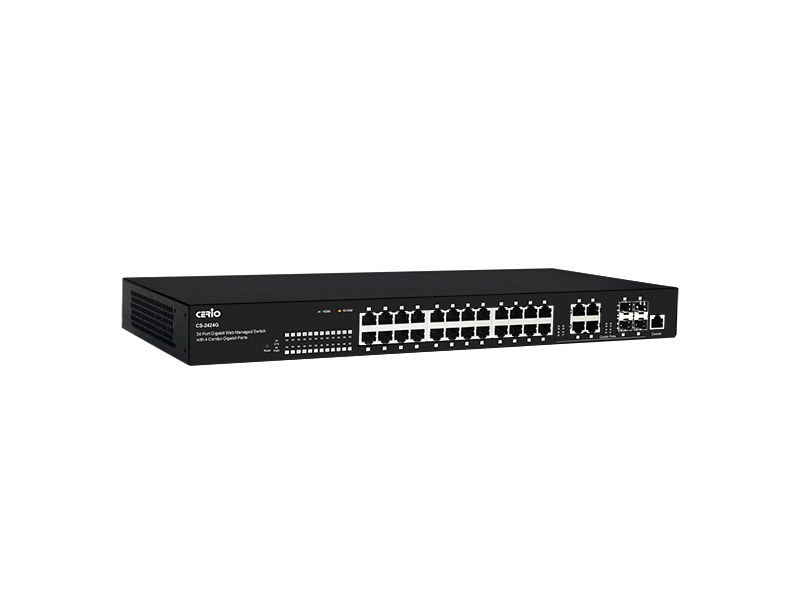 24 Port 10/100/1000M Gigabit Web Managed Switch with 4 Combo Gigabit Ports
CERIO CS-2000 Series Model: CS-2424G latest A3 version is a powerful high-performance 4 Combo Gigabit with 24 port 10/100/1000Mbps web managed switch and supports Remote control and management through a web-based User Interface. This Layer 2 Web Managed switch supports Spanning Tree / Rapid Spanning Tree protocol, Port base IEEE 802.1Q VLAN Tagging, IGMP snooping, IEEE 802.1p port-based QoS, and Bandwidth control / Loop Detection. CS-2424G A3 version with high performance gigabit design provides reliable performance and allows for easy management of auto-negotiation speeds.
The CS-2424G A3 version Web Managed Switch is ideal for minimizing network downtime, connecting subnets for improved performance, and enabling the bandwidth demanded for multimedia and imaging applications. The CS-2424G A3 version effectively reduces operational costs by allowing network administrators to remotely access and monitor their network, ultimately eliminating the need for constant on-site maintenance staff. CS-2424G A3 version's layer 2 web managed design also increases network security by providing enhanced network control through port management and visible MAC table addresses/clients. This device's high feature and high performance design, paired with an easy to use web interface, effectively improves both network management and efficiency for medium and large sized applications. 
CS-2424G A3 version is a feature packed web managed gigabit switch, providing enterprise grade function at a competitive price point. Deploying CS-2424G A3 version in your network can provide network organization and improved efficiency for your devices and clients. CERIO's web-managed switches offer convenient configuration which ultimately provides premium performance, easy installation, and is sure to meet the increasing demands of growing networks.
Highlight Features
Complying with IEEE 802.3 10Base-T, IEEE 802.3u 100Base-TX, IEEE 802.3ab 1000Base-T, IEEE 802.3z 1000Base-SX/LX, IEEE 802.3az EEE.

24 port 10/100/1000Mbps TX Auto-Negotiation Ethernet Switch.

Supports 4 Combo Gigabit UTP/SFP uplink ports for high-speed RJ45 Gigabit Uplink and MiniGBIC 1000Base-SX/LX fiber uplink for long-distance network applications.

Full/Half-Duplex capability on each TX port, Autolearning networking configurations.

Supports store & forward operation.

Supporting the flow control: back pressure for Halfduplex and IEEE 802.3x for Full-duplex mode.

Non-blocking & Non-head-of-line blocking full-wire speed forwarding.

Supports network interface Auto MDIX function for auto TX/RX swap.

Automatic Source MAC Address Learning and Aging.

Provides 9.6K Jumbo frames to improve network utilization of a large file transfers.

Supports up to 8K MAC addresses.

Up to 4Mb Packet Buffer size.

VLAN and IEEE802.1Q tag-base VLAN based on ports & VIDs; add/remove/modify tag.

Supports Voice VLAN / MAC VLAN and GVRP.

Supports Broadcast / multicast / unknown unicast storm control.

Provides IGMP snooping v1/v2/v3 function and supports MLD snooping and MVR.

IEEE802.3ad Link Aggregation LACP.

Supports Bandwidth Control with KB/s size control.

Supports 802.1x protocol to support CHAP, EAP mode and port/MAC based network access control.

Supports RADIUS/TACACS+ and AAA Certificate function.

Supports MAC Table Management.

Supports MAC/IPv4 and IPv6 ACL security management.

Supports DoS (Denial of Service) Defense for enhanced network security.

Firewall Dos supports POD, LAND, UDP Blat, TCP Blat, Null /X-Man Scan Attack, TCP SYN-FIN/SYNRST Attack, Smurf Attack and other defense function.

Link Layer Discovery Protocol (LLDP).

Supports Dual Image function, which can shorten the downtime during the switch firmware upgrade or downgrade, and supports Active firmware image, Backup firmware image security backup mechanisms..

Supports DHCP Snooping function to prevent access by unauthorized hosts and DHCP servers and supports DHCP Option 82 provides additional security.

Each port supports limiting the number of MAC Addresses with IP and MAC address Binding.

Supports QoS Quality of Service, Port-based QoS bandwidth management, 802.1q priority Tag based with 8 priority Queues and 8 Weights.

Supports bandwidth control to set control traffic limits (inflow and outflow) for each port.

Supports Port Mirroring function.

Supports Spanning Tree Protocol (STP) and Rapid Spanning Tree Protocol (RSTP) and Multiple Spanning Tree Protocol (MSTP).

Support proxy DNS server, SNTP time server network time synchronization function, it can automatically adjust the host to update the time, easy to understand the problem and restore.

Supports Event Log, Alarm Log, Security Log, Network Log, and Protocol Log.

Supports file backup and recovery.

Software management service supports setting Console / Telnet / SSH / HTTP /HTTPS/SNMP.

Supports GUI display for monitoring network data status by port, traffic analysis by port, and device CPU and Memory loading for convenient administrative network analysis and management.

Supports web-based HTTP web management user interface and supports SNMP v1/v2c/v3.
Hardware Overview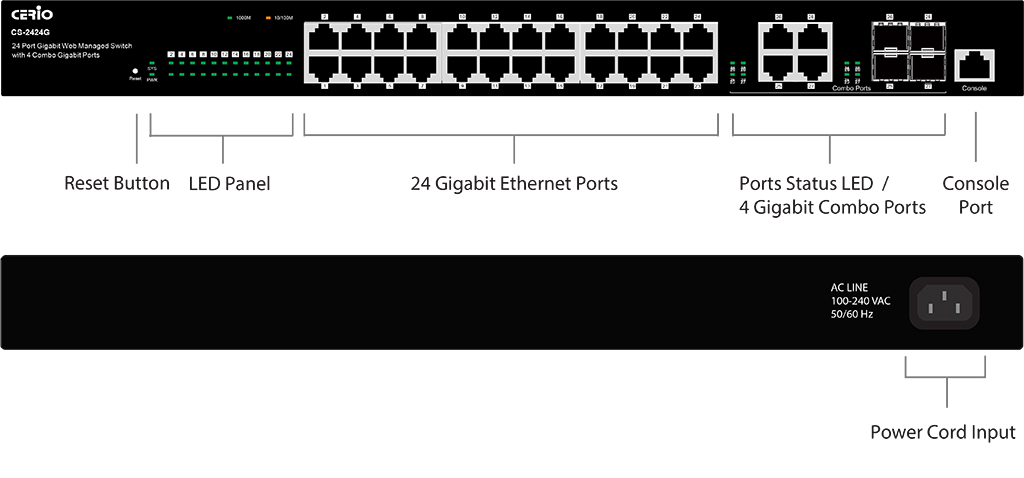 Jumbo Frames9.6k
Standards & Hardware Specifications

Network Standards Conformance

IEEE 802.3 10Base-T

IEEE 802.3u 100Base-TX

IEEE 802.3ab 1000Base-T

IEEE 802.3z 1000Base-SX/LX

IEEE 802.3x Flow Control

IEEE 802.1p QoS

IEEE 802.3az EEE

IEEE 802.1Q VLAN Tag

IEEE 802.3ad Link Aggregation

Port Configuration

24 ports RJ-45 connectors for 10/100/1000 BASE-TX

4 Combo Gigabit Ports (RJ45 / SFP)

1 RJ45 Console Port

Hardware Reset

Reset button for returning to factory settings

Surge Protection

Support 6kV surge protection on RJ45 port

Media Access Protocol

CSMA / CD

Network Media

10BASE –T: UTP Cat. 3 or up

100BASE-TX: UTP Cat. 5 or up

1000BASE-T: UTP Cat. 5 or up

Transmission Method

Store and Forward

MAC Address Table

8K

Built-in Buffer

4Mb

Data Transfer Rate

10/100/1000Mbps (Half-duplex),

20/200/2000Mbps (Full-duplex)

Auto MDI/MDIX

Yes

LED Indicators

Per Port: Link / Activity Status x24

Gigabit Combo Port: RJ45 Connection Status x4

Gigabit Combo Port: SPF Connection Status x4

Per Unit: (PWR) x1

Per Unit: (SYS) x1

Internal Bus Speed

56Gbps

Switch Specifications

Link Aggregation

IEEE802.3ad LACP Link Aggregation Supported

Port Mirror

Supported

Quality of Service (QoS)

Supports IEEE 802.1p QoS, Port-based QoS

Bandwidth Control

Supported

Spanning Tree(STP)

Supported

Rapid Spanning Tree(RSTP)

Supported

Multiple Spanning Tree Protocol (MSTP)

Supported

IGMP Snooping

Supports v1, v2, v3 and MVR

ACL

Supports IPv4 / IPv6 and MAC Management

DHCP

Supports DHCP Snooping / DHCP Option 82 / Option82 Circuit ID

IPv6 Management Function

Supports IPv6 Internet Protocol, IPv6 Autoconfiguration mechanism and DHCPv6 Client

Dual Image Function

Supports Dual image, Active firmware image and Backup firmware image

SNTP Time Server

Supported

VLAN

IEEE802.1Q Tagging VLAN , Port-Based ,Tag based VLAN

SNMP

Supports SNMP v1/v2c/v3

Authentication Security Protocol

Supports RADIUS / TACACS+ and AAA

Virtual Network Management VLAN

Supports Voice VLAN / MAC VLAN and GVRP

Port Security Management

Supports Broadcast / multicast / unknown unicast storm control

Environmental & Mechanical Characteristics

Power Consumption

6.5Watt

Power Type

Power cord: Internal Power supply

Power Requirement

AC 100~240VAC, 50-60Hz Auto-sensing

Operating Temperature

0° to 50° C

Storage Temperature

-40° to 70° C

Operating Humidity

10% to 90% non-condensing

Storage Humidity

10% to 90% non-condensing

Dimension ( W x D x H )

441 x 195 x 44 mm

Weight

2.6Kg

Production Location

TW or CN 

Certification

FCC, CE, RoHS-compliant

Package Content

CS-2424G Main Unit

x1

19" Rack Mount Brackets

x1

Power Cord

x1

Warranty Card

x1