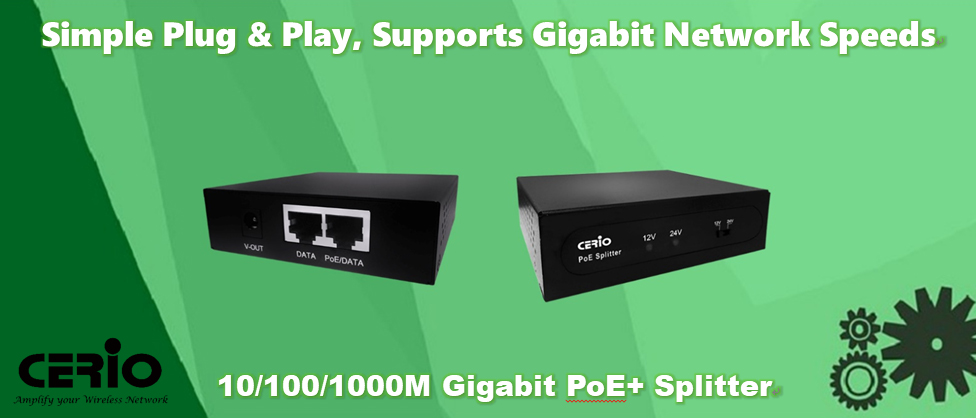 POE-PD03S
Easily convert your non-PoE PD into a PoE-ready device with Cerio's PoE splitters

10/100/1000M Gigabit PoE+ Splitter
Cerio's POE-PD03S Gigabit PoE+ Splitter delivers Power over Ethernet (Fast Ethernet /Giga Ethernet) to remote devices. The PoE Splitter can be used to complement any 802.3at /802.3af PoE, Proprietary injector unit, or mid-span switch to provide small to medium-sized businesses with a complete end-to-end PoE solution. POE-PD03S delivers both data and electrical power to non-PoE Fast Ethernet or Gigabit Ethernet devices.
Long Distance Application
Provide both data and power for distances of up to 100 meters (328 feet) from the power source when using CAT 5 or up cabling.
Cost Effective and Easy Pluy and Play
Some additional benefits of Cerio POE splitter include cost saving, convenience in network planning, and higher reliability. Plug-and-Play, requires no configuration.
Supports Desktop or Wall Mounting Installation, Durable Metal Case
Provide desktop or wall mounting increase flexible installation, metal case provides high reliability and stability.
Selectable Power Output
Set the output power to either 12V or 24V by DIP switch.